AN ENVIRONMENTALLY RESPONSIBLE LEADER.
AN ENVIRONMENTALLY RESPONSIBLE LEADER.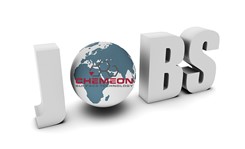 At CHEMEON, our future is brighter than ever. Envision a company with a unique combination of a dedicated and highly skilled work force, a company with the ability to formulate new surface technologies, a company that can identify its' market and establish itself as THE marketplace leader. Imagine being a part of an innovative environment where you can engage new and exciting challenges, develop your knowledge and expertise, and advance your career as far as you want it to go. Join CHEMEON. 
Because we believe that our team of highly trained and motivated professionals is our most valuable asset, CHEMEON provides a competitive and comprehensive compensation package. We strive to provide meaningful benefits that meet the diverse needs of our employees across the nation. We endeavor at attracting, developing and retaining our talented workforce.
We hire individuals who embrace challenges and competition, strive for honesty and high integrity, and value a team environment that promotes innovation, accountability, and constant learning and growth.
CHEMEON is currently seeking motivated and exceptional individuals to join our Sales Team. If you believe you are a top performer that can make a difference, send your resume and cover letter to info@chemeon.com.
Job Openings:
Please check back