Specialty Chemicals for Chromate Conversion
QPD-81706B Approved: CHEMEON TCP-HF Suite of Chemistries
Download CHEMEON TCP-HF as an Anodic Seal Fact Sheet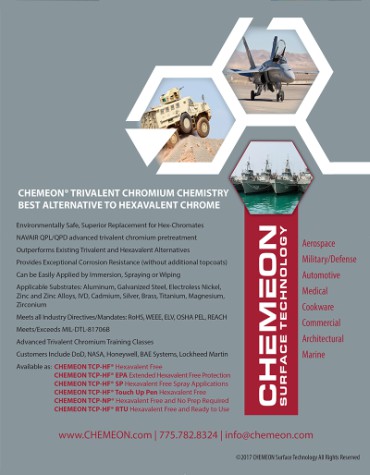 It is an environmentally safe and superior trivalent chromate alternative to hexavalent chromates. The Department of Defense and the United States Navy initially developed and tested this product for use in extreme applications. Surpassing over 15,000 test panels CHEMEON TCP-HF (Hex Free) outperforms existing trivalent and hexavalent alternatives in wear and corrosion resistance (without requiring additional topcoats), while being more economical in cost per application. TCP-HF can be applied in bulk and barrel applications, without damaging the coating integrity, and is versatile enough to be applied over a wide range of materials, including zinc and alloy plating, raw zinc die cast, and aluminum.
As an anodize seal it is an economical alternative to chromic acid, nickel acetate, nickel fluoride, and hot water seals.
CHEMEON TCP-HF (Hex Free) Capabilities
| | |
| --- | --- |
| Process | Trivalent chromium |
| Applications | Chemical conversion coatings. Anodized aluminum sealer. Passivate and anti-tarnish. |
| Industry Specifications and Standards | MIL-DTL-81706. MIL-DTL-5541 Type II. MIL-C-5541 Class 1A and Class 3. ROHS. REACH. WEEE. ELV. OSHA, ASTM B921. QPL. |
| Substrates | Bare aluminum and anodized aluminum. Zinc and zinc alloys. Magnesium. Galvanized steel. IVD. Cadmium. Titanium. Zirconium. |
| Properties | Extended corrosion resistance. Paint adhesion. Electrical properties. Coating durability. |
| Application Methods | Immersion. Spray. |
| Corrosion Resistance | 336h NSS bare aluminum. 3,000h+ anodized aluminum. |
| Temperature Exposure | Can be dried at 250°F Can be baked for hydrogen relief at 250°F for 24+h without loss of performance |
| Product Advantages | Lower solution operating temperature. Harder than conventional hexavalent. Can be applied and dried in bulk. No topcoat required. Average coating weight 22.88 mg/ft2. |
| Industries Served | Aerospace. Military/Defense. Automotive. Medical. Cookware. Commercial. Architectural. Marine. Avionics. Electronics. Heavy equipment. |
Related products include:
CHEMEON TCP-HF EPA (Hex Free)  TDS: TCP-HF EPA |  SDS: TCP-HF EPA
Extended Protection Additive, it is used as an anti-corrosion and paint adhesion enhancement agent in chromate conversion applications. Product properties:
developed for enhanced performance for 2000 and 7000 series alloys,
offers better corrosion resistance with etch,
designed for consistent results and better coating weight,
allows more flexible pre-treatment process parameters.
CHEMEON TCP-HF SP (Hex Free) TDS: TCP-HF SP  |  SDS: TCP-HF SP
It is optimized for spray applications and effective as a pre-paint/powder coat anti-corrosive chemical.
CHEMEON TCP-HF (Hex Free) Spray Bottle
Small touch-up spray use.
CHEMEON TCP-HF (Hex Free) Touch-Up Pen  TDS: TCP-HF Touch Up Pen |  SDS: TCP-HF Pen
Touch-up and field repair use.
The advantages of CHEMEON TCP-HF (Hex Free) versus current hexavalent chromate are as follows:
Hexavalent chrome is a known carcinogen and highly regulated. TCP-HF contains a small amount of trivalent chrome which is not a carcinogen and is non-toxic.
Hexavalent chromate systems must be heated.  TCP-HF is applied at room temperature and does not require heating.  This saves in energy costs and production down-time during bath start-up.
Hexavalent chromates must be ventilated and the air must be discharged within applicable environmental limits.  TCP-HF is odorless and does not require ventilation.  Again, energy, manpower and compliance savings are realized.
TCP-HF is a drop in replacement for hexavalent chromates.  Pre-treatment chemistries and application method (Immersion, spray, wipe) will remain the same.  This eliminates the need for additional equipment or system retrofits.
TCP-HF is less acidic than hexavalent chromates.  Etching of the part is minimized while the part dimensions are maintained.
TCP-HF withstands temperatures that meet MIL-DTL 81706B 250°F allowing for greater process flexibility. Hexavalent chromates do not perform as well when subjected to elevated temperatures.
TCP-HF has performed as well or better than hexavalent chromates in a variety of applications and tests. The Navy tested the product on entire airframes for the F/A18 as well as S3 tail sections. The planes were flown for an extended period with excellent long-term results. It has also been tested and approved for the exterior framework of the United States Army Amphibious assault vehicle being manufactured by General Dynamics at GDDS Virginia. Of twenty products tested TCP outperformed all by nearly twice the neutral salt spray corrosion testing.