EDUCATING THE NEXT WAVE OF EXPERTS
EDUCATING THE NEXT WAVE OF EXPERTS
CHEMEON Advanced Training Classes provide surface finishing professionals with the critical skills, training and knowledge necessary to immediately improve productivity, profitability and ROI.
Utilizing a combination of interactive classroom lecture and hands-on laboratory instruction in a small class setting, our experienced professionals and scientists offer classes on Aluminum Anodizing, Titanium Anodizing, and Chromate Conversion Coating.
Attend the CHEMEON training program to improve your understanding of all aspects of modern-day surface technology, the 720 Rule, gain troubleshooting insights, avoid non-conformance, learn how to identify, and eliminate potential quality control issues, improve processing quality to reduce rework, maximize turnaround, and increase your career-advancement potential.
CHEMEON Advanced Training is ideal for engineers, scientists, facility managers, line operators and others who may be new to metal finishing, as well as for those who oversee the process and others who may simply need a reminder about best practices.
Our training is held at one of the nation's most complete anodizing and chromate conversion research and development Technology Center in Minden, NV (Reno/Lake Tahoe).
Check out our 2023 CHEMEON Advanced Training Class schedule or contact us to schedule your company's own customized class.
Upcoming Classes (2-Day):
April 11-12
July 11-12
September 11-12
Upcoming Classes:
(QPL-81706 approved)
Upcoming Classes:
April 13
July 13
September 13
For questions or to schedule your training class, email Shay Davis at sdavis@chemeon.com or complete the inquiry form below.

Training Class Inquiry
Download Back to School - Training Help Finishers, OEMs Expand Expertise
Read CHEMEON Training article by providing info below.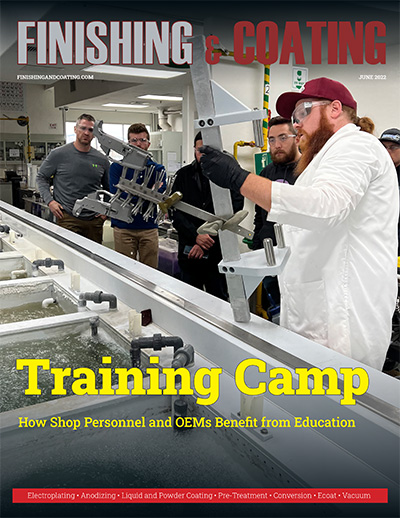 See what previous participants say...
"The empowerment I received from completing the Chemeon Anodizing Course is second to none. The knowledge and passion shared by all at Chemeon was refreshing and reassuring. I feel much more confident in solving anodize issues after having completed this course, and I believe Chemeon to be a valuable and loyal partner for our company far into the future."
-Matthew Kennedy, Tulsa Metal Finishing (Tulsa, OK)
"The anodizing expertise at Chemeon is a notch above. This team knows anodizing! They have the practical operations andknow-how to give their students an edge on the shop floor, and a deep theoretical foundation that's hard to come by in the industry. Two thumbs up for Chemeon Aluminum Anodizing Best Practices and Troubleshooting training."

-KMC, Protomet (Oak Ridge, TN)
"I attended the two-day Chemeon Basic Anodizing Course in 2018. As a new anodize engineer, the training was invaluable to solidify my process knowledge and help me to better sustain our facility. Chemeon follows up the on-site training by providing a first-class reference manual that I still use frequently to solve problems. Highly recommended training."
 
-Scott Duncan, FM Industries (Phoenix, AZ)
"Chemeon's Aluminum Anodizing Best Practices and Troubleshooting training was an excellent experience. The material presented was well-organized and thorough, there was adequate time for questions, and included the opportunity to learn from other participants. Especially valuable was running test panels in the lab portion of the training, which can include your own parts to run to solve problems or improve your process. The take-home materials are a great resource for reference and the training was time well spent. I highly recommend the training either as an introduction to the field or as continuing education."

-Vanessa Valentine, Milner's Anodizing (Santa Rosa, CA)