AN ENVIRONMENTALLY RESPONSIBLE LEADER.
AN ENVIRONMENTALLY RESPONSIBLE LEADER.
Madylon Meiling, Ph.D., CEO, CHEMEON Surface Technology
Dr.Meiling transformed CHEMEON from adversity and insolvency to profitability and success in the global race to replace the known carcinogen hexavalent chrome with environmentally friendly chemistry. CHEMEON manufactures and supports the MIL SPEC qualified replacement to hexavalent chrome, CHEMEON TCP-HF (Hexavalent Free). CHEMEON also supports patented CHEMEON 0CP-6800 (Zero Chrome) and the patented CHEMEON eTCP, designed to provide corrosion protection and enhanced adhesion properties to light metals. As a result of Dr. Meiling's collaborative leadership style, CHEMEON's research and development team is acclaimed as a global subject matter expert in the replacement of hexavalent chrome and anodizing technologies. CHEMEON recently presented the keynote address at the 2019 Metal Finishing Symposium of California and is partnering with the U.S. Navy on new CHEMEON technology.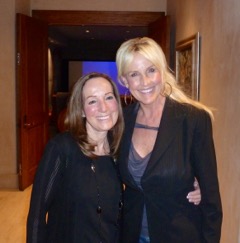 Dr. Meiling has built CHEMEON into a valued, sustainable, international brand, moving the company away from turbulence, and into a brighter and more promising future.
Since 2013, new owners, Madylon and Dean Meiling, have increased the CHEMEON team to include globally recognized leaders in business, marketing, science, and sales, focused on innovation, integrity, research and development, clean technology, and corporate social responsibility.
Prior to CHEMEON, Dr. Meiling's work with Sierra Nevada College included her leadership and development of a foreign exchange sponsorship program for 35 students from Italy, whose University was destroyed by earthquakes in 2009. This global humanitarian project was recognized by Secretary of State Hilary Clinton (video here), and House Speaker Nancy Pelosi during the National Italian American Foundation Gala in Washington DC. The Mayor of L'Aquila and appreciative students honored Dr. Meiling with an award and luncheon when she and Dean visited the destroyed city and University in October 2011.
Madylon and Dean Meiling are respected Nevada residents in both Incline Village and Las Vegas. Their philanthropy includes founding the world-renowned music festival "Classical Tahoe," and Pet Network Humane Society, a non-profit no-kill animal shelter, and major donations to Parasol Tahoe Community Foundation, Incline Village Hospital Foundation, Sierra Nevada College, Thunderbird Lodge Preservation Society, and the Nevada Museum of Art. Dr. Meiling is a passionate and transformational leader, focused on the environment, philanthropy, and collaboration.