SUR FIN 2019 begins Monday, June 3rd  with a 10:30 AM presentation by CHEMEON Scientist Dr. Catherine Munson.  "The Correlation between electrochemical behavior and neutral salt fog corrosion on Trivalent Chrome Pretreatment (TCP) coated AA2024"  will take place in Meeting Room 3 as part of "Advances I: Surface Finishing Technology Today"
Global Industry, Government, Military and OEM specifications call for extensive salt fog testing (up to 1,000 hours) as a requirement to predict how well a coating will protect a base metal in real-world applications.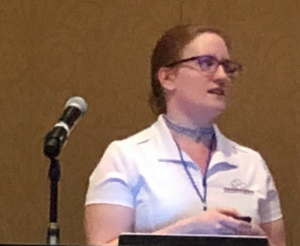 Across months of research and testing at the CHEMEON laboratory, Dr. Munson has identified a robust correlation between electrochemical testing and salt fog performance which would save months of time.
Electrochemical testing generally takes only a few hours and could predict how well a coating will perform in salt fog.
This correlation was found and quantified between electrochemical properties and the corrosion of a trivalent chromium pretreatment (TCP) coated aluminum alloy (AA2024-T3) during neutral salt fog exposure. Differences in open circuit potential, electrochemical impedance spectroscopy, and Tafel analysis were observed and quantified between the best-performing processes (longest time in salt fog/lowest pit count) and the worst-performing processes (shortest time in salt fog/highest pit count). The best-performing processes exhibited a more positive open circuit potential, larger polarization resistance, lower coating capacitance, more positive corrosion potential, more positive pitting potential, and smaller corrosion rates compared to processes that failed quickly in salt fog.
Overall, a link was shown between electrochemical behavior and neutral salt fog corrosion resistance to help predict which processes will provide the most corrosion resistant TCP coatings in a significantly shorter time than a full neutral salt fog test.
The Munson/CHEMEON findings are part of the company's solution based approach to helping CHEMEON customers including OEM, Military and the Metal Finishing industry, as a whole, achieve their goals to provide parts that are coated and protected with excellent corrosion and adhesion properties.
To learn more about the latest CHEMEON findings and new technologies including CHEMEON eTCPTM, the first trivalent conversion coating and anodic seal with distinct color for visual verification that your parts are coated and protected, visit Booth 1118 or chemeon.com/etcp